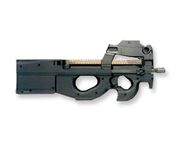 The P90 is a compact Personal Defense Weapon produced by the Belgian firm Fabrique Nationale de Herstal (FN). The P90 fires the proprietary 5.7x28mm pistol-type cartridge with a unique overhead fead system.
TECHNICAL DATA
Edit
The technical data listed below is for P90 PDWs in service with Naval Station Great Lakes' NCIS Field Office.
TYPE: Personal Defense Weapon
LENGTH: 20 inches
WEIGHT:6.8 pounds fully loaded
CARTRIDGE:5.7x28
ACTION:blowback
RATE OF FIRE:900 Rounds per minute
FEED:50 round top-mounted magazine
SPECIAL FEATURES: Accessory rails for various sights, lights, aiming devices, and other attachments.
RANGE:>250 meters
The P90 is a compact weapon available for use by CRT Operators in situations that require a smaller weapon, such as Close Quarters Combat, and for operators who might not otherwise be able to carry a larger weapon, such as an M4 or UMP. The P90 has an ambidexterous grip and casings eject downwards.
References
Edit