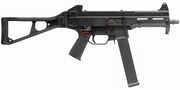 The Hechler and Koch Universale Machinenpistole, or Universal Submachine Gun, is H&K's successor to the familiar and well-liked MP5 Submachine gun. The weapon is available in 3 calibers: .45 ACP, .40 S&W, and 9mm.
TECHNICAL DATA
Edit
The technical data listed below is for UMP .45s in service with Naval Station Great Lakes' NCIS Field Office.
TYPE: Selective fire Submachine gun
LENGTH: 27.7 Inches (Stock extended), 17.7 inches (Stock folded)
WEIGHT:5 pounds empty
CARTRIDGE:.45 ACP
ACTION: Blowback, Closed bolt
RATE OF FIRE:600 Rounds Per Minute
FEED:25 round detachable box magazine
SPECIAL FEATURES: Accessory rails for various sights, lights, aiming devices, and other attachments.
RANGE:100 meters
The UMP .45 is used only by the Contingency Response Team as a powerful close quarters weapon. There are four settings for the selective fire toggle: Semi-Automatic, 2 round burst, Full Automatic, and Safe.
The UMP replaces the MP5 in the Great Lakes CRT's arsenal. The .45 caliber version was chosen over the 9mm because of the greater stopping power of the .45 ACP cartridge. Flash and sound suppressors are available for the weapon, and can be fitted when authorised and tactically necessary.